Choosing the perfect kitchen design can be an overwhelming task, but with a clear understanding of your preferences, style and available options, you can create a stunning space that suits your needs. Below, the team at DJ Design has written a post about some of the most important things you should consider when designing your new kitchen space. We explore different kitchen styles, materials, finishes and storage solutions – keep reading to learn more.
Selecting Your Preferred Kitchen Style
The first step in creating your ideal kitchen is to decide on the overall style you desire. Two popular choices are Shaker Style and Slab Style kitchens. The Shaker door, with its recessed centre panel and frame surround, offers a timeless and elegant traditional look. 
Opting for a wider frame adds a touch of sophistication, while a narrow frame gives a more contemporary feel. Inframe and integrated handle styles offer alternative takes on the classic Shaker design. On the other hand, the Slab door presents a clean and minimalist aesthetic, perfect for a modern, contemporary kitchen design.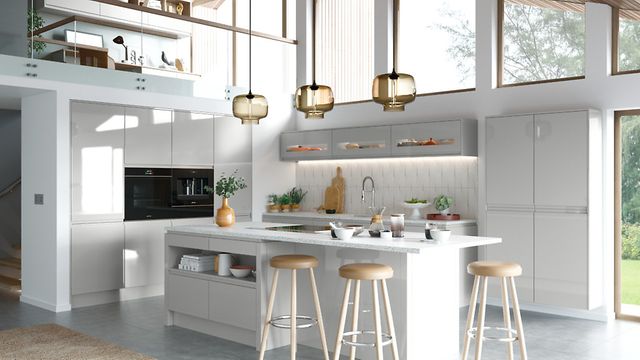 Enhancing with Handles
Handles can be the finishing touch that elevates your kitchen design. With an extensive selection of handles and knobs to choose from, you can find the perfect complement for your preferred style. Whether you aim for a traditional, contemporary, or eclectic look, the right handle can add a touch of personality and elegance to your kitchen.
Integrated Handle and True Handleless Kitchens
For those seeking a minimalistic approach, the Integrated Handle design is an excellent choice. It seamlessly integrates the handle into the door, creating a sleek and uncluttered appearance. This style can be achieved with both Slab and Shaker doors, allowing you to maintain a modern or traditional ambiance, respectively.
If you desire the epitome of streamlined elegance, consider the True Handleless kitchen design. Utilising a metal rail attached to the cabinet, this concept allows you to open the doors effortlessly, creating a truly minimalist and contemporary aesthetic. The True Handleless kitchen design is perfect for those who value clean lines and a clutter-free environment.
Materials
When it comes to constructing your kitchen cabinets, it is crucial to select high-quality materials. Our cabinets are manufactured using 18mm Swiss Eggerboard, renowned for its durability and strength. This versatile material can be customised to fit any size requirements, ensuring that your kitchen is not only visually appealing but also built to last.
Internal Storage Solutions
The inside of your kitchen cabinets is just as important as the exterior. We offer a range of storage solutions that combine practicality with design versatility. From pull-out drawers and custom shelving to innovative organisation systems, our internal solutions ensure that your kitchen remains both functional and aesthetically pleasing.
Finishes
To bring your ultimate kitchen vision to life, explore the diverse selection of finishes available. Whether you prefer painted or stained cabinets, our wide range of colours and finishes allows you to personalise your kitchen to reflect your unique style. From subtle neutrals to bold statement hues, the possibilities are endless.
Require Bespoke Kitchen Designers in St Albans?
Designing your perfect kitchen involves a thoughtful consideration of style, materials, finishes, and storage solutions. By understanding the various options available, such as Shaker and Slab styles, integrated and true handleless designs, high-quality materials, functional storage solutions, and a plethora of finishes, you can create a kitchen that seamlessly blends beauty and functionality. 
At DJ Design, we specialise in designing, manufacturing, supplying, and installing dream kitchens. Our bespoke handmade kitchens offer exceptional quality at affordable prices. We take pride in using environmentally friendly recycled wood for our in-house manufactured cabinets.
With over 25 years of experience, we provide a free, no-obligation design and quote service. You can choose from our extensive range of 160+ kitchen and 120+ bedroom finishes, including customizable hand-painted wood options. 
To experience our family-run business and how we can bring your dream kitchen to life, call us today on 01727 842270 or 01438 583075. You can also email us at support@djdesign.uk.com and we'll get back to you shortly.