When it comes to kitchen design, one style that stands the test of time is the classic Shaker style. With its clean lines, functional simplicity, and timeless appeal, Shaker kitchens continue to be a popular choice for homeowners seeking a harmonious balance between traditional charm and contemporary aesthetics. In this post, we take a closer look at Shaker style kitchens, exploring their origins, key design elements, and the reasons behind their enduring popularity. Have a read to learn more.
Origins and Design Philosophy
The Shaker style originated in the late 18th century from the beliefs and craftsmanship of the Shaker religious community. Guided by their principles of simplicity, utility, and quality, the Shakers developed a design philosophy that emphasised clean lines, unadorned surfaces, and functional integrity. These principles were deeply ingrained in their lifestyle and reflected in their furniture and architectural designs, including their iconic kitchen cabinetry.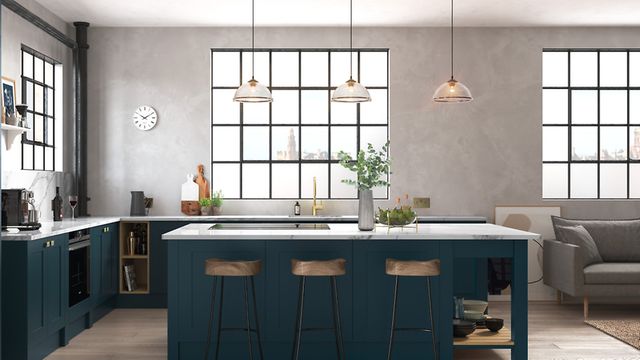 Key Design Elements
Shaker style kitchens are characterised by several key design elements that contribute to their timeless appeal including;
Recessed Panel Doors 


The hallmark of Shaker cabinets is the recessed centre panel with a frame surround. This simple yet elegant design creates a sense of depth and dimension while maintaining a clean and uncluttered look.

Straight Lines and Minimal Ornamentation 


Shaker kitchens embrace simplicity, favouring straight lines and minimal ornamentation. This design approach allows the beauty of the natural materials and craftsmanship to shine through, creating an atmosphere of understated elegance.

Quality Craftsmanship 


Shaker-style kitchens are known for their exceptional craftsmanship. Built to last, these cabinets are typically made from solid wood or high-quality wood veneers, reflecting the Shakers' commitment to durability and functionality.

Versatility and Customisability


Shaker-style kitchens offer a versatile canvas for personalization. From choosing the type of wood and finish to selecting hardware and accessories, homeowners have the freedom to tailor their Shaker kitchen to their unique style preferences.
The Enduring Popularity of Shaker Style Kitchens
The timeless appeal of Shaker style kitchens can be attributed to their versatility, adaptability, and ability to seamlessly blend with various design aesthetics. Whether you prefer a traditional farmhouse look or a contemporary urban vibe, Shaker cabinets effortlessly integrate into any setting. 
Their clean lines and understated elegance make them the perfect backdrop for both bold and subtle design elements, allowing homeowners to create a kitchen that reflects their individual taste and personality.
Furthermore, Shaker kitchens offer a sense of warmth, comfort, and familiarity, making them an inviting space for gathering and culinary creativity. They evoke a sense of nostalgia and timelessness, transcending passing trends and fads.
Searching for Kitchen Suppliers in Stevenage?
Shaker style kitchens continue to be a timeless choice for homeowners seeking a harmonious blend of tradition and modernity. Their clean lines, functional integrity, and understated elegance make them a versatile canvas for personalisation.
If you're captivated by the allure of Shaker style kitchens and are considering renovating or designing your own, come to DJ Design. We are a team of reputable kitchen suppliers in Stevenage, priding ourselves on delivering exceptional quality, craftsmanship, and customer service. 
Our team of experienced professionals will guide you through the process, helping you bring your dream Shaker kitchen to life. Contact us today to schedule a consultation and explore the possibilities that await you. You can reach us by phone on 01727 842270 or 01438 583075. Alternatively, you can email us at support@djdesign.uk.com and we'll get back to you as soon as possible.